Please tell us a little bit about yourself and your journey.
We are Laura Muthesius & Nora Eisermann, a photographer and stylist couple, both born in Berlin. We started our food blog, Our Food Stories 10 years ago and our Instagram @_foodstories_ some time later, where we share mostly gluten-free baking recipes. At that time, Berlin didn't offer many places to eat gluten-free, so Nora started creating her own delicious gluten-free cake recipes for Laura, who had a gluten intolerance.
A few years ago, we had the opportunity to move from Berlin to a small village north of Berlin, where we could realize our dream to work and live close to nature, which has very much inspired our work. We love to do outdoor photo-shootings in wild fields, and really enjoy being surrounded by apple, pear and plum trees, drawing so much inspiration from the change of the seasons.
What does "dreaming locally" mean to you?
Being able to spend so much time in nature is a dream come true for us! It means to be present and connected with the nature around us and to appreciate the calming power of nature, especially when the world seems to be spinning faster and faster these days.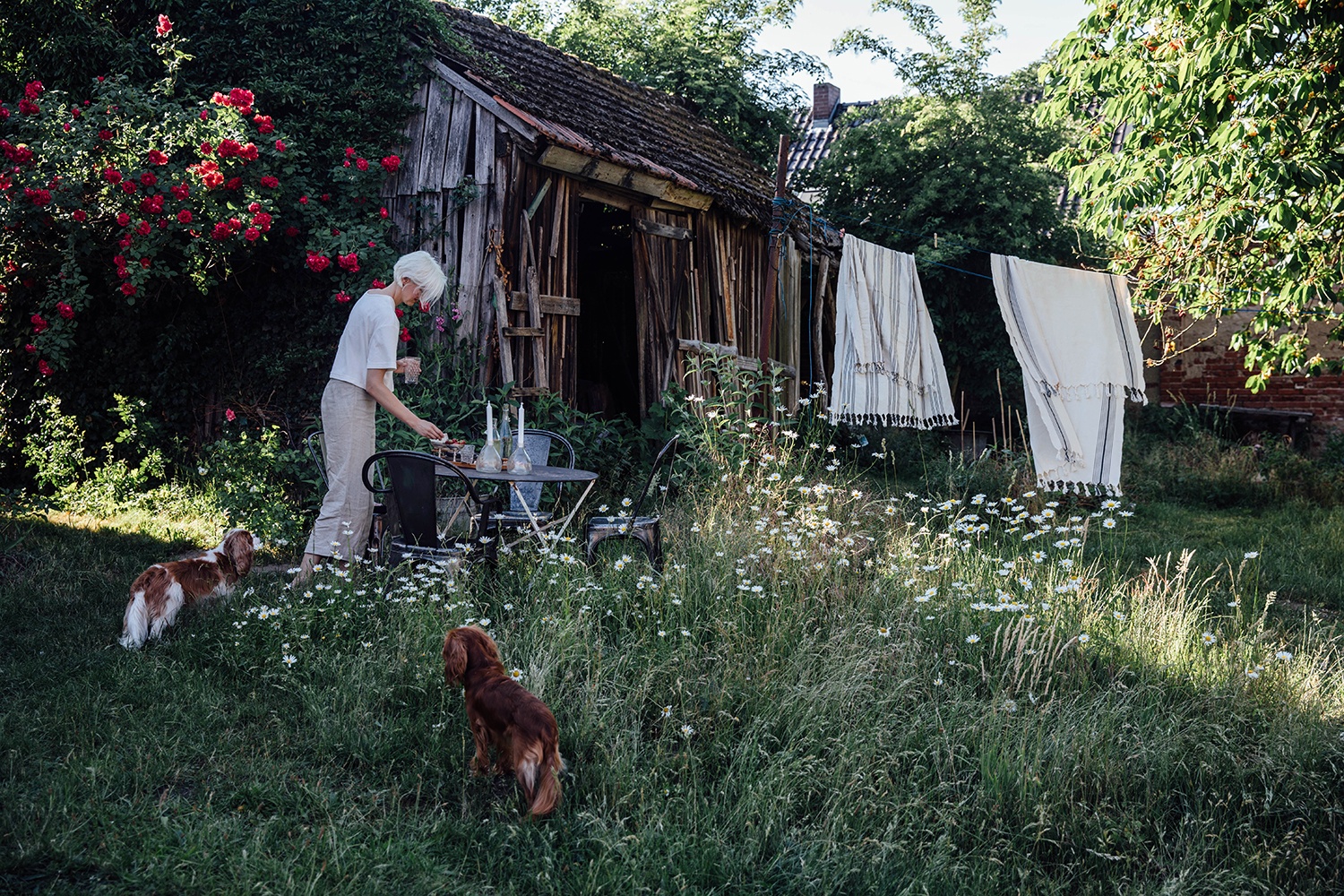 How do you embody this in your life, your work?
Because we have such a huge passion for our work, our daily life is quite busy. It's so nice to have the balancing and calming power of nature, which plays a big part in our lives. Having two dogs also helps, as we take at least one really long walk a day with them. This has proven to be such a gift and always has a grounding effect on our whole system.
We recently started a new project, called St. Oak, a holiday rental and event space in Kyritz, Brandenburg which is currently under renovation and opening next spring. The idea behind this project is to offer more workshops and share our knowledge of photography and styling , while also to give people the opportunity to truly experience our work in real life, and not just see our photography and table settings online. And of course, we will also welcome holiday guests that want to explore the wonderful nature in northern Brandenburg. As the name St. Oak suggests, we have the most wonderful oak tree in front of the building (a really powerful 200 year old oak tree that even survived a fire), and when you enter the apartment it almost feels like the tree would come through the windows, as it feels so connected to the building. We can't wait to welcome the first guests here in 2024.
IT IS VERY IMPORTANT FOR US TO FEEL THE POWER AND ENERGY OF NATURE.
How do you think nature helps us connect with ourselves? With our communities?
We come from nature, so we actually are a part of nature - which is often forgotten these days. For millions of years nature was our actual home; this has only just changed in the last 200 years as most of the world's population now live in cities. So it's only natural that people have the impulse and urge to go back to nature and recharge and reconnect with it. It's in our genes.
Nature is calm, unlike the realities of our daily life filled with social media, TV, movies, emails, goals to achieve, to-do-list to finish. Our heads are spinning all day with these things. Nature doesn't care. Nature is just there, providing a calm barrier to all the daily noise around us: She listens. And then we start to listen to ourselves, and our problems or worries don't feel that exhausting after a "green bath" from mother nature.
How can others dream locally?
Through connections on website's like Dream Local, we absolutely love the concept!
And then of course just by exploring the nature that surrounds you - Berlin is such a wonderful green city and you don't have to go far to really experience the calming effect of nature.