Wine tastings and exclusive winery tour in Berlin-Brandenburg
Whether in a group, as a couple or as a gift – a wine tasting in Berlin is always a great experience! You discover new exclusive wines, refresh your knowledge and train your senses.
And you don't need a plane ticket to South Africa or a weekend on the Moselle to experience wine-growing up close. One of the most exciting German wine regions is right on your doorstep: in Brandenburg!
Here we present various offers for wine tasting in Berlin, localities and an exclusive winery tour in Brandenburg:
Wine tasting in Berlin
- Wine hopping, seminar or exclusive winery tour?
- Top 10 wine shops in Berlin
- EXCLUSIVE: Local winemaker tour and tasting
Winery in Berlin-Brandenburg?
- History & development of Lower Lusatia
- About Wolkenberg Wines
How does a wine tasting work?
- Course of a wine tasting
- Dos and don'ts
- Small wine tasting ABC
Wine Tasting in Berlin
Wine hopping, seminar or exclusive winery tour?
The range of wine tastings in Berlin is large. Here we present the different ways to immerse yourself in the world of wines.
Wine tasting – a good start
A simple wine tasting is particularly suitable for "beginners". Here you usually get a few basics of specialist knowledge and a tasting of classic wines.
Wine seminar – for real connoisseurs
At the wine seminar, "advanced" get a taste for it. The expertise gained turns many wine fans into hobby oenologists.
Wine hopping – puts you in a party mood
Wine hopping takes you from wine bar to wine bar – the ideal opportunity to get to know not only new wines but also previously undiscovered bars.
Top 10 wine shops in Berlin
Whether it's wine hopping or wine tasting, here are 10 of the most popular Berlin wine bars:
1. Chez Bruno
2. neungrad°
3. Schmidt wine shop
4. drinknaked
5. Nix wie Wein
6. Weinheuer
7. planet wine
8. Schmidt Z & Ko
9. Delicious Berlin
10. Enoiteca il Calice
Exclusive winery tour in Brandenburg
You don't just want to taste the wine, but want to immerse yourself completely in the fascinating world of wine? A short trip beyond the borders of Berlin takes us to one of the most exciting wine-growing regions in Germany: Niederlausitz!
Wine hike, rarities & locally produced cheese
At the Wolkenberg vineyard and winery you can not only taste wines, but also experience viticulture in Brandenburg up close – because first you go to the vineyards. During a one-hour wine tour you will learn everything about the history of the former opencast mine and its recultivation.
Winegrower Bettina Muthmann takes you into the world of wine-growing and decants wines from her own cultivation in the nearby little hut 'Straußwirtschaft'. Cheese is served with it – also from local production.
An impressive day awaits you with delicious wine rarities, exciting stories and a great view.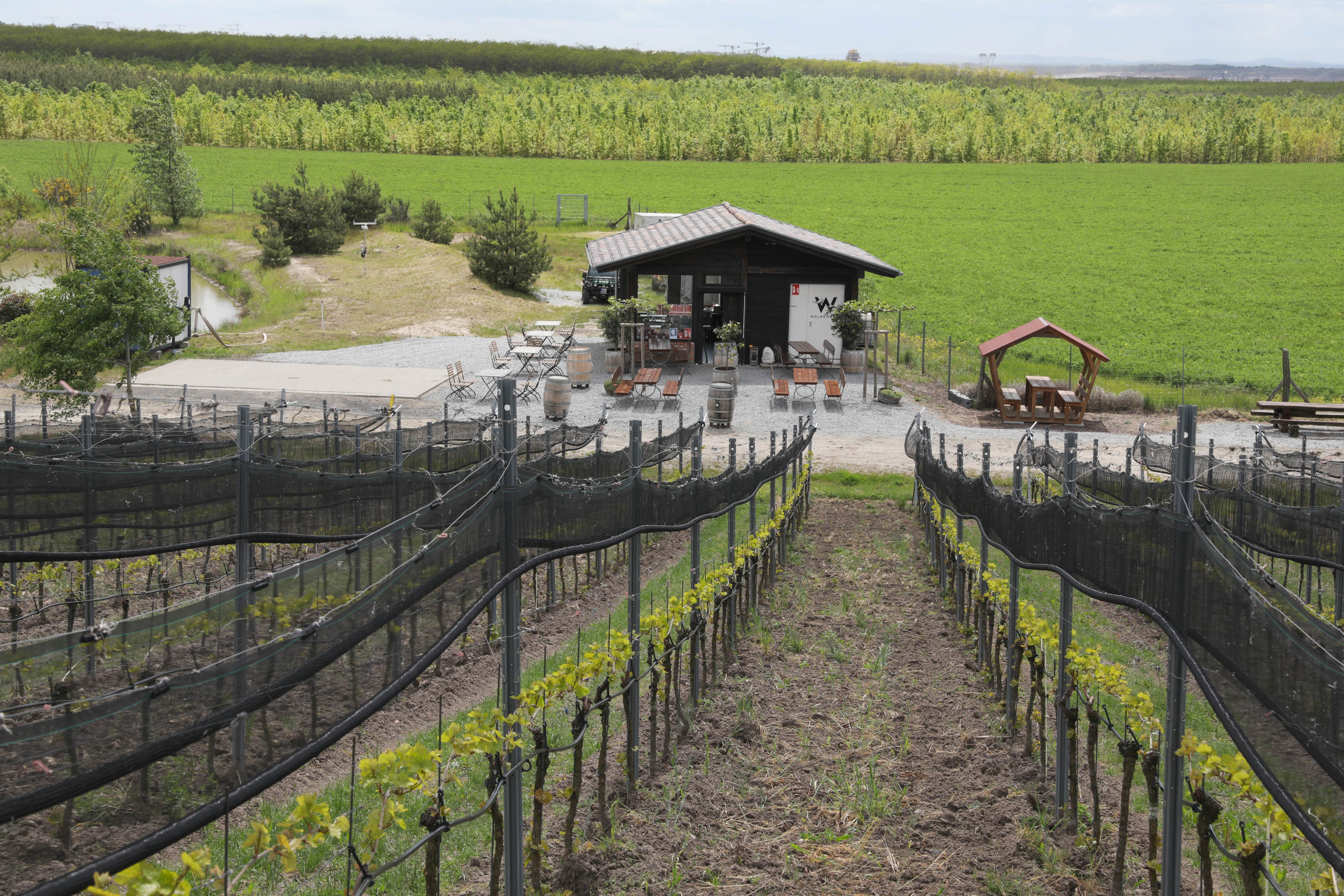 Winery in Berlin-Brandenburg?
Welcome to sunny Niederlausitz
Yes, they exist: Vineyards in Brandenburg. In the beautiful Niederlausitz, grapes grow on around 30 hectares of land. This makes the growing area relatively small compared to the region on the Rhine and Moselle. But the continental location gives the area not far from Berlin more hours of sunshine on average. In this way, grapes of very good quality can ripen here.
History and Development
Cistercian monks were already cultivating wine in Brandenburg in the 12th century. After the end of the Second World War, viticulture came to a standstill and only resumed in the mid-1980s.
Characteristics of Brandenburg's vineyards
Certified organic wine has been cultivated and pressed on a historic vineyard in Töplitz since 2007. A particular specialty are the fruit wines. Every year at the tree blossom festival in Werder, fruity drops are served that have it all.
About the Wolkenberg Winery // Brandenburg
Another special feature: On the edge of the Welzow-Süd opencast mine, grapes grow on a recultivated mining area, today the Wolkenberg vineyard. The grapes for Pinot Gris, Pinot Blanc and sparkling wine ripen on around 26,000 vines. In addition to direct tasting, you can take part in guided winery tours here.
You can find out more about Wolkenberg Weine and its history in an interview with winemaker Bettina Muthmann. Would you like to experience the spirit of the former mining region and taste delicious Wolkenberg wines? Here you can find more information about the winery tour, dates and prices → Find out more now
How does a wine tasting work?
Preparations and order
For a successful wine tasting under the best conditions, a few small preparatory measures are taken:
1. Cool wines in good time (white wine at 6 degrees, red wine at 16 degrees)
2. Prepare tasting sheets and pens
3. Provide wine glasses, decanters, and spittoons
4. White bread and still water to neutralize
5. Possibly serve other snacks such as cheese
6. Set the order of the wines
The wine tasting order is light before heavy, dry before sweet and young before old. You start with the white wines and then move on to the rosé. The finale is made by the red wines with a fresh, light wine at the end.
Wine selection recommendations
A selection of 3-5 wines is particularly suitable for wine novices. For advanced users it can also be 8-10. With more than 10 varieties, it can be difficult to keep the focus on taste and aroma.
The selection of wines from one growing area or comparable wines from one grape variety is particularly exciting. Here you will discover characteristic tastes that are typical for the area or the grape variety.
An experience for the senses
Seeing – the tasting starts with the eye
You start with just looking at the wine. Clarity and color already tell you a lot about the condition and maturity. White wine takes on an increasingly strong color over the years, while red wine loses color intensity with age. In addition, a particularly dark red wine color indicates a rather hot growing area.
Then the glass is swiveled. If the wine leaves viscous drops on the inner wall, it is particularly rich. The following applies: the oilier the wine, the more alcohol or residual sugar it contains.
Smell – the nose is used
You take a deep, steady breath through your nose. How does the aroma of the wine smell – the so-called bouquet? To describe the scent, it helps to draw comparisons to known smells, such as: berries, wood, vanilla etc. In general, a distinction is made between seven flavor families:
1. flowery
2. fruity
3. vegetable
4. spicy
5. caramelized
6. smoky
7. microbiological
The aroma wheel of the German Wine Institute can help with this ⤵️
Taste – now we do take a sip
You take a sip of wine and keep it in your mouth. If you like, you can also slurp it. You draw in additional oxygen, which makes the taste even more intense.
Then move the sip back and forth in your mouth with your tongue. This also intensifies the taste.
You focus on the sweet-acid ratio, the individual flavors and the texture. A good, balanced wine should taste everything that its bouquet promises and have a pleasant, lingering aftertaste.
At a professional wine tasting, you spit the wine into a spittoon provided. But that is not a must! How much wine you actually drink is up to you.
Wine Tasting – Dos and Don'ts
Dos – this is allowed at wine tastings
Slurping is allowed, but not mandatory. By slurping, you draw additional oxygen into your mouth and the wine aroma intensifies. You are free to decide whether you swallow the wine or spit it out afterwards. Tip: Find out about the number of varieties before the wine tasting and then decide. Even sipping in between is allowed.
Don'ts – you should avoid this when tasting wine
The glass should never be completely filled so that there is still room to breathe. Only with a little air in the glass can the aroma fully unfold. You should also always hold the wine glass by the handle and not further up. Otherwise it can happen that you warm up the wine with your hand.
Small wine tasting ABC
Finish: aftertaste shortly after swallowing
Barrique: matured in oak barrels, recognizable by a fine note of wood
Bouquet: all of the perceived aromas of a wine
Character: the unity of all fragrances and flavors
Cuvee: Mixture of different grape varieties, vintages or origins
Decanting: pouring the wine from the bottle into a carafe
Body: a tactile sensation which describes the weight and fullness of wine in the mouth
Sommelier: Wine waiter who recommends, serves and tastes wine
Tannin: tannic acid that gives a furry mouthfeel
Tartaric acid: tasteless crystals that settle in the bottle